Thank YOU, Brightside Friends & Fans!
Because of you, yes you--online, festival, CSA and retail customers, workshop attendees, and all-around fans of our farm--we have grown so much. On a near-daily basis I look around Brightside and wonder how it all happened. We now share this beautiful Allegheny ridge with more than two dozen chickens and ducks; two wonderful goats, Miss Clyde and her daughter Dora; two sweet warrior cats, sisters Leia and Rey; and of course, our Lab/Pointer mix Buddy, big brother to all. These formal members of our animal family along with countless white-tailed deer, black bear, racoon, opossum, rabbit, skunk, chipmunk, squirrel, turkey, hawk, owl, eagle and ohso many songbirds inhabit and inform our life. Every day we pay attention animals teach us what it means to be human.

Brightside now offers more than two dozen herbal teas, five varieties of goat milk soap and an ever-changing assortment of gourmet goodies. For five years, ending 2017, we ran Produce on the Move!
a CSA (produce subscription service) that included Brightside veggies and fruit as well as the produce from several local organic farms. Pocahontas County CSA and retail veggie customers, please stay tuned for new developments in organic produce distribution in 2019!
Goat Milk Soap

is Better for Your Skin--it Really is!
Switching to soap made with raw goat milk really can benefit your skin's health. Goat milk soap is wonderful for people with dry or sensitive skin, or conditions such as eczema and psoriasis. It is also perfect for healthy skin that wants to stay that way. Unprocessed, raw goat milk fresh from the farm contains the following beneficial ingredients:
Alpha hydroxy acids, which remove dead skin cells.

Vitamin A, which is necessary to repair damaged skin tissue.

Cream, which actually moisturizes the skin.

Selenium, which has a role in preventing skin cancer.
We blend our goat milk with sustainably harvested olive, coconut and palm oils, sodium hydroxide, and organic essential oils. We also offer our soap unscented. From the very first lather, we guarantee you will feel the difference. We have. And we hope to never buy commercial soap again. :-)
Our Most Popular Tea
Great Again is an herbal blend reknowned for its anti-inflammatory properties. If you suffer from arthritis or other inflammatory conditions, this tasty tea is for you.
Drying Racks are Full
We're still harvesting herbs and filling our racks. This season, we have especially flavorful culinary herbs: Genovese basil, Greek oregano, Italian parsley, rosemary, sage, & thyme. This was also a great year for Staghorn sumac (Rhus typhina) a tart, tangy, lemony addition to your spice cabinet. Wild herbs including Mullein (Verbascum thapsus), Nettles (Laportea canadensis & Urtica dioica), Red Clover (Trifolium pratense) & Yarrow (Achillea milfollium) have been abundant.
Better Know an Herb: Wood Nettle
Commonly known as Wood Nettle (or colloquially as Stinging Nettle, for the sharp sting delivered by chemicals in the fine hairs that line the stems and undersides of its leaves) Laportea canadensis is also one of the most delicious, nutritious woodland herbs of the eastern US. As soon as the leaves are cut from the stem, the stinging hairs dry and fall away. In the spring, I replace basil with tender nettle leaves to make pesto. Sauteed as a side-dish or chopped & added to soups, I prefer nettle to spinach for its distinctly earthy yet less chalky flavor. As the season progresses, I (carefully!) cut leaves from stems and lay them flat to dry. In about a week, the leaves are crisp and ready for grinding into a fragrant, vitamin & mineral rich tea delightful hot or cold. Nettle is reknowned around the world for its anti-inflammatory properties. After years of serving it to people who think they won't like it, I've discovered almost everyone does!
Need Gifts? We've Got 'em!
Searching for something authentic & healthful to give? Brightside Acres has it. Herbal teas, gourmet goodies & goat milk soaps handcrafted on our Allegheny Mountain farm. Shop our holiday specials, peruse our store to create your own gift assortments, or contact me for help in designing custom gift boxes with the individual in mind.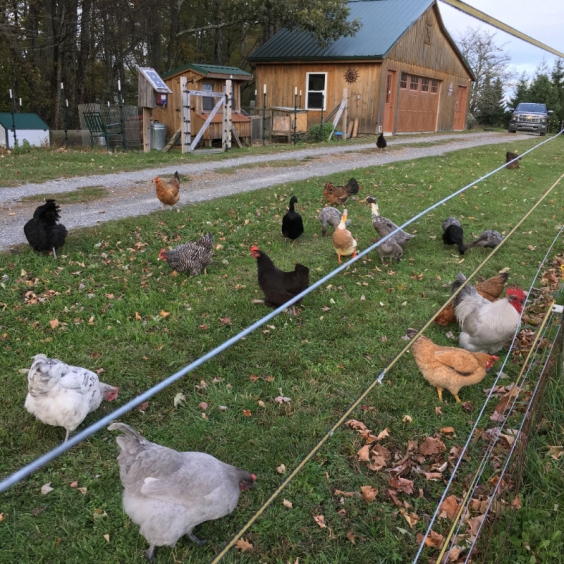 Happy chickens and ducks living together. I took this photo from inside our solar-fence encircled garden. The birds have learned to follow me as I work, waiting for vegetable and fruit treats. Their constant quacks and clucks are lovely company.
What matters to me?
Kindness and humility. Becoming a more aware steward of my little piece of earth. Approaching the animals in my care as an apprentice, not a master. Seeking, through careful observance and steadfast labor, to live as permanent student of the garden, orchard, vineyard, meadow and forest. What matters to you?
Thanks for stopping by. See you soon!