Our Growers
Garden Gallery
Error: slideshow isn't configured properly.
S & S Farm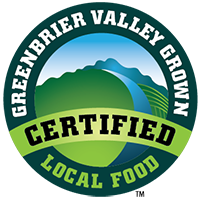 Located in Minnehaha Springs, West Virginia, S & S Farm is the home of Steve and Mary Saffel, who grow a great variety of non-certified organic vegetables, herbs and berries and raise Tamworth and Berkshire cross hogs, chickens, turkeys and honeybees on land that has been in Mary's family since the late-1800s. They also work an apple orchard located on Steve's family farm, founded in the mid-1700s. S & S Farm was named 2014 Pocahontas County Conservation Farm by the Greenbrier Valley Conservation District (GVCD), which serves Greenbrier, Monroe and Pocahontas Counties. The intent of the West Virginia Conservation Farmer competition is to recognize producers who are maintaining commendable conservation practices in their diverse agricultural operations. Steve and Mary came in a very close second to Jennifer "Tootie" Jones of Swift Level Farm in Greenbrier County as district winner. Steve and Mary completed West Virginia Department of Agriculture-certified Good Agricultural Practices/Good Handling Practices Training in 2014. S & S Farm produce is Greenbrier Valley Grown certified.
Brightside Acres
Located on Top of Allegheny near Bartow, West Virginia, Brightside Acres is the 15-years in the making dream come true of Dawn Baldwin Barrett, a native of Memphis, Tennessee. On her largely forested mountain property, Dawn has about two acres in non-certified organic vegetable, fruit and herb production. While she specializes in cool season crops that can be grown all summer at her high elevation, she can't resist planting just a little bit of everything, especially if its an heirloom, short-season, cold-hardy variety! She maintains a small vineyard, heirloom apple orchard, blueberry plot and the most-spoiled flock of chickens on the planet. Brightside Acres is a Certified Tree Farm. Dawn completed West Virginia Department of Agriculture-certified Good Agricultural Practices/Good Handling Practices Training in 2014. Brightside Acres produce and value-added products are Greenbrier Valley Grown certified.
Windy Acre Farm
Roland and Judy Cutlip have lived at Windy Acre, in Hillsboro, WV, since 1972. Natives of Pocahontas County, growing, canning, and freezing vegetables has always been their way of life. In order to expand their specialty tomato production, they purchased a small greenhouse in 2011 and then a high tunnel in 2013. In 2014 they added a new field garden where they grow abundant peppers, cabbage, beets, squash and so much more. Much love, labor and a life-long passion for fresh, healthy food go into all their endeavors. Recently they've added six colonies of honey bees, a new adventure for retirees not at all ready to retire! Windy Acre Farm produce is Greenbrier Valley Grown certified.

Bootstraps Farm
Bootstraps Farm is located in the Spring Creek Valley north-west of Renick. Farmer Michael Buttrill purchased the farm in January of 2005 and began transforming the land into a working market garden. Drawing from the knowledge gained in many farm positions and an apprenticeship program, Michael's produce is 100% organic and is produced using sustainable practices such as composting, biodiesel, and biodegradable mulch. Bootstraps Farm is a co-founder of the current Lewisburg Farmers Market, now in its twelfth season. Read more! Bootstraps Farm produce is Greenbrier Valley Grown certified.
Maple Mountain Farm
Maple Mountain Farm is located high on Cheat Mountain in the northern end of Pocahontas County. Scott and Lindsey Hayes started the farm after building their home and family here. Both grew up with a love of gardening, and they try to pass that on to their young children. They believe in local sustainable food, and although not certified organic, they raise all of their food using organic practices. In addition to several large vegetable and fruit gardens, they've started a small apple orchard. They also raise organic chickens and eggs, have a few hives of honey bees, and make maple syrup the old-fashioned way every Spring. Other products include gourmet vanilla extract and handmade hardwood charcoal. They enjoy learning from their gardens and try to expand and experiment with new things each year, whether it's shitake mushroom logs or season-extending low tunnels. Read more! Maple Mountain Farm is Greenbrier Valley Grown certified.