The Best Peeler in the World Can be Yours!
Since 1949
,
Cutco has made high quality cutlery and kitchen utensils in Olean, New York. Each item, including this truly outstanding peeler, an indispensable gadget I use every day, is backed by a lifetime guarantee. A Cutco Vegetable Peeler is OUR GIFT TO YOU when you sign-up for one month of CSA service.
Already a customer? Refer a friend and both of you will receive the best peeler you'll ever own. Fresh-picked, chemical-free veggies PLUS a Cutco peeler. Too good to be true? Not when you buy from Pocahontas County Produce on the Move!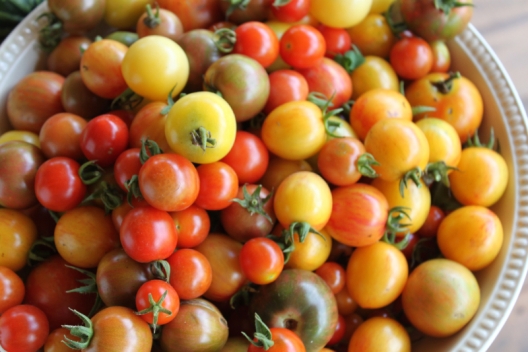 Maple Mountain Farm Cherry Tomatoes.
Duck, Duck...Turkey!
Most of you are familiar with free-range chickens from Steve Saffel at S & S Farm. So flavorful and tender! Once you taste a Saffel chicken ($4.25/lb), you'll never drive to Kroger again! This season Steve is offering free-range ducks ($5.25/lb), a delicious & nutritious alternative to chicken. Duck breast has about half the saturated
fat of a boneless, skinless chicken breast and is notably higher in protein, iron, selenium and niacin. Nutrition information. Coming soon: Thanksgiving & Christmas turkeys! If you ordered one last season, you know how good they are. This year, we'll have turkeys ($4.25/lb) available over a wider range of dates. Questions? Want to order a bird? Contact us.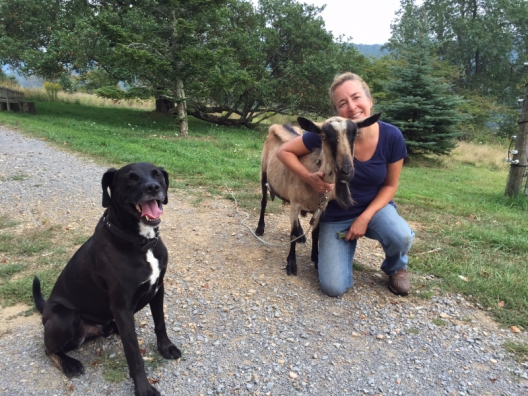 Brightside Acres has goats! Our dog Buddy couldn't be happier.
And neither could I. A new adventure has begun.
At $3.50/dz free-range eggs from the happy hens at Brightside Acres and
S & S Farm are only a penny more than what you'll pay at regional grocery stores. Why not buy local?
Produce on the Move Partners
Pocahontas County Produce on the Move! wouldn't exist without the weekly participation of S & S Farm, Windy Acre Farm, Maple Mountain Farm & Bootstraps Farm. These families are dedicated to producing delicious food without the use of chemical pesticides, herbicides or fertilizers. When you purchase a CSA membership, you're supporting five family farms for whom LOCAL FOOD IS OUR FUTURE is not a slogan, but a daily way of life. They're also the best group of people I've ever had the privilege to work with. The blessing is mine.
The CSA basket is now a box! Customers who pick-up at NRAO or The Fiddlehead received their first box last week. We feel that boxes will enable us to transport more CSA shares while ensuring the best quality at point of delivery. As with the baskets, we ask you to return the boxes so we may re-use them. If you happen to have any baskets or purple bags lingering about your kitchen, garage or vehicle, please return them, as they are needed and will most definitely be used. Thanks everyone for your commitment to POTM!
Visit Us 12-5pm Thursdays: 503 Third Ave in Marlinton
Questions? Contact us!
HEARTFELT THANKS TO ALL OUR CUSTOMERS.


With your dollars, you've not only purchased produce raised using the most environmentally sustainable methods, you've also supported the reality of small farming as a business. We small local producers simply can't survive without your choice to spend more of your dollars with us.
THANK YOU FOR SUPPORTING OUR LOCAL FOOD ECONOMY.