What's in this week's basket?
It's week number 13 of our inaugural CSA season. Can you believe it? The weather is beginning to change and with it, so will the items in your weekly basket. More greens, brassicas and winter squashes will take the place of tomatoes, summer squashes and eggplant. This week, we expect to have apples, a mix of yellow wax and green beans, sweet red and yellow peppers, mixed greens, radishes, onions, and what will likely be among our last offerings of cherry and plum tomatoes. Those of you who have ordered bi-weekly chicken will receive your birds Thursday.
If you didn't place a standing order for chicken, but decide you want one, just let us know. We have extra birds in the freezer. Questions? Requests? Email dawn@brightsideacres.com. Want to keep up with all that's going on at our farms? Follow us on Facebook. Check out Our Growers.
Let's Talk Turkey! Pocahontas County Poultry on the Move!
Thanksgiving is just around the corner. Are you interested in an alternative to a store-bought bird? S&S Farm is raising beautiful free-range turkeys on their all-organic farm in Minnehaha Springs. Turkey doesn't get any healthier, happier or tastier than this! Click below to reserve your turkey today.
CSA Memberships for 2015
Heartfelt thanks to all who have already signed-up for the 2015 season! We continue to take applications, available on a monthly, Spring/Summer/Fall, or Full Season basis. The 2015 season will begin April 2 and run through November 24, the Tuesday before Thanksgiving. Click below to reserve your membership.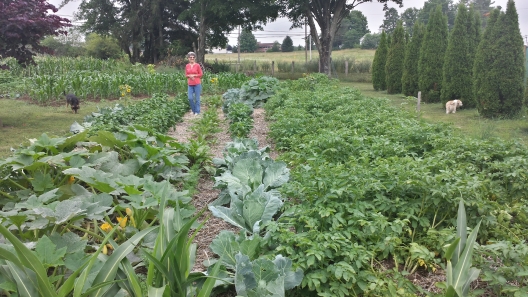 Judy Cutlip of Windy Acre Farm, Hillsboro, WV in one of her and husband Roland's several wonderfully productive field and high-tunnel gardens.
Fresh Flowers



I'd rather have roses on my table than diamonds on my neck.
~Emma Goldman

This may be the final flower-week of the season, folks!

Breathtaking bouquets assembled by Tolly Peuleche of Hidden River Farm are available for Thursday pick-up or delivery. Just $15 for a bouquet cut the day before! Please send an email to dawn@brightsideacres.com to reserve yours. These aren't flowers you find at Kroger or Walmart.
Winter will be here before we know it!
Recipe Ideas
SQUASH EMERGENCY
At a loss as to what to do with squash too large or past-its-prime for grilling or sauteeing?
Try this: Peel. Chop. Cook until soft adding as little water as possible. Puree in a blender or food processor. Freeze.
This puree, fantastic as a soup with just a wee bit of salt & pepper, herbs of your choice and a sprinkle of parmesean cheese, also makes a wonderful base for cooking just about anything requiring broth or water. Roast chicken? Roast beef? Stew? Spaghetti sauce? Vegetable soup? Whenever you might use store-bought broth or water, try using squash puree instead.
You'll love it.
VEGETABLE-LOADED FRIED RICE
I am a huge fan of rice. Basmati rice. Jasmine rice. Brown rice. If I were to be truly self-sustaining at Brightside, I would have to give up three things I use daily that I simply cannot produce here: olive oil, sesame oil, and rice.
Let's hope it doesn't come to this! ;-)
For me, fried rice is ultimate comfort food. Along the lines of potato-leek soup or chicken soup made from a whole free-range chicken. Venison stew. Yum!
For serving four, prepare three cups of your rice of choice and set aside.
In a 10-inch skillet, I recommend using about 3 TBLS olive, sesame or canola oil for sauteeing about a half a chopped onion, a clove or two of minced garlic, and a teaspoon or so of minced ginger until slightly softened.
Add cooked rice, mixing and spreading into an even layer. Cook for a couple minutes, being mindful to keep temp at low-medium--don't want to crisp and harden the rice!
Push rice to the perimeter and add 3 slightly-beaten eggs to the center of the pan. Scramble with a spoon and pull rice mixture into eggs as they cook.
Add two cups or more of prepared vegetables: Shredded red or green cabbage; chopped any-color bell pepper; chopped chard, spinach or kale; chopped and steamed broccoli, cauliflower, carrots, squash, or zucchini; chopped green beans, snow or snap peas...whatever you've got in the crisper!!
Stir in approx 3 TBLS low-sodium soy sauce. Cook, stirring occasionally, until heated through and vegetables are to desired tenderness. Won't take long!
Sprinkle with sesame seeds, chopped cilantro, lime juice, siracha. Your preference.
Again, I say: Yum!
Walk-ins Welcome
Can non-CSA members purchase from us? The answer is YES. Every week we have extra organically grown produce available for purchase at our distribution hub, 503 Third Avenue, in Marlinton. Sometimes we have more of what's in the baskets, and often a variety of other produce as well. Potatoes, onions, garlic and free-range farm eggs are staples. We also have whole chicken, pork sausage, chops, ribs, shoulder roast and ham steak available for purchase straight from the freezer.
Wildgrown fruit preparations and teas, hardwood charcoal and gourmet vanilla are also for sale. Please encourage friends and neighbors to come see us from 2-5 pm Thursdays. Email: dawn@brightsideacres.com to receive this newsletter and/or a list of produce available each week.
Now Accepting Online Payments
Tired of writing a check for monthly membership fees, poultry, sausage or other extras? You can now pay online from your credit card or bank account through PayPal. No extra fees are applied.
THANK YOU FOR SUPPORTING OUR LOCAL FOOD ECONOMY