Echinacea in the Brightside flower garden.
"Bees do have a smell, you know, and if they don't they should, for their feet are dusted with spices from a million flowers."
―
Ray Bradbury
,
Dandelion Wine
Want fresh veggies one week at a time?
For the remainder of August, we are offering our basket service on a single-week basis. If you or someone you know has been hesitant to commit to a whole month, now is the chance to try our delicious, nutritious 10-lb basket of fresh-picked organic produce one week at a time. Online payment in advance of single-week delivery is required. Please sign-up by noon on the Wednesday prior to delivery. Monthly and seasonal memberships remain available September through November. Questions about signing-up? Contact us!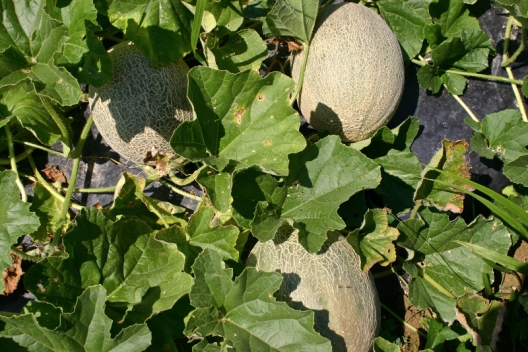 Coming Soon: Cantaloupe. Yes, Local Cantaloupe.
This photo of S & S Farm melons was taken August 12. Almost ready!
Reserve your September basket now
to insure you get one!
Special Shout-Out to Our Summer Camp Customers!
What would we do without

Camp Hidden Meadows, High Rocks,

and

Camp Twin Creeks

? Frankly, I don't think we'd be here! The two months of camp, coming relatively early in our growing season, are very important to launching us into the late summer/fall. And just think: When camps buy from Produce on the Move! kids from around the county, country, and the world, eat Pocahontas County-grown veggies! Yay!

THANK YOU

Camp Directors and Chefs for putting your trust in us. We look forward to 2016!
Dawn's Moment of Zen:


Tending new sprouts in the Brightside greenhouse.

This season is far from over, ya'll. In fact, we're only now getting to the good part. We're not even halfway done!
Membership has it's privileges...
When you purchase a CSA membership, whether by the week, month or season, you're guaranteed that you will receive the highest quality and greatest variety of local organic produce available. But you don't have to be a CSA member to enjoy a taste of what Produce on the Move! offers. Walk-ins are welcome 12-5pm every Thursday at 503 Third Avenue in Marlinton. Come see us for Good Things to Eat
!
Visit Us Thursdays: 503 Third Ave in Marlinton
Questions? Contact us!
HEARTFELT THANKS TO ALL OUR CUSTOMERS.


With your dollars, you've not only purchased produce raised using the most environmentally sustainable methods, you've also supported the reality of small farming as a business. We small local producers simply can't survive without your choice to spend more of your dollars with us.
THANK YOU FOR SUPPORTING OUR LOCAL FOOD ECONOMY.