Want a basket one week at a time?
For the month of August, we are offering our basket service on a single-week basis. If you or someone you know has been hesitant to commit to a whole month, now is the chance to try our delicious, nutritious 10-lb basket of fresh-picked organic produce one week at a time. Online payment in advance of single-week delivery is required. Please sign-up by noon on the Wednesday prior to delivery. Monthly and seasonal memberships remain available August through November. Questions about signing-up? Contact us!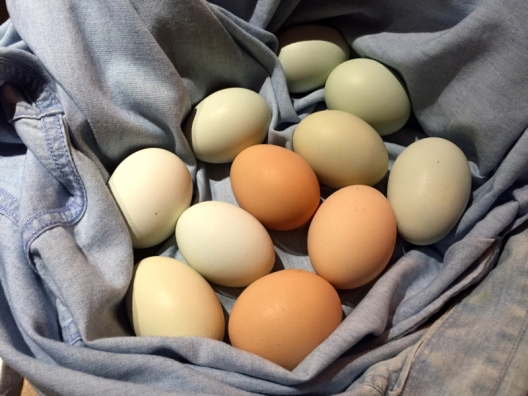 Eggs: For Nutrition They're Hard to Beat
One egg has only 75 calories but 7 grams of high-quality protein, 5 grams of fat, and 1.6 grams of saturated fat, along with iron, vitamins,
minerals, and carotenoids.
Magically Delicious!
Free range eggs & whole chickens
Farm fresh free range eggs from S & S Farm and Brightside Acres are available for purchase from the cooler at 503 Third Avenue in Marlinton. $3.50/dozen. We also have whole chickens (2-3lbs each) from S & S Farm. $4.25/lb. If you've never treated yourself to a free range bird, now's the time! We're open 12-5pm every Thursday. Decide you want a dozen eggs or a chicken included in your basket? Drop us a line.
Membership has it's privileges...
When you purchase a CSA basket, whether by the week, month or season, you're guaranteed that you will receive the highest quality and greatest variety of local organic produce available. But you don't have to be a CSA member to enjoy a taste of what Produce on the Move! offers. Walk-ins are welcome 12-5pm every Thursday at 503 Third Avenue in Marlinton. Come see us for Good Things to Eat
!
Visit Us Thursdays: 503 Third Ave in Marlinton
Questions? Contact us!
HEARTFELT THANKS TO ALL OUR CUSTOMERS.


With your dollars, you've not only purchased produce raised using the most environmentally sustainable methods, you've also supported the reality of small farming as a business. We small local producers simply can't survive without your choice to spend more of your dollars with us.
THANK YOU FOR SUPPORTING OUR LOCAL FOOD ECONOMY.