Purple and orange carrots and ground cherries from Maple Mountain Farm.
Ground Cherries
Also known as Husk Cherries, these golden fruits arrive housed in a beautiful, lantern-like calyx that must be removed before use. For me, their sweet/savory flavor evokes nothing so much as the beach. An intriguing blend (yes, really) of pineapple and tomato. I find it difficult not to keep unwrapping them and popping them into my mouth! :-)
Upon removing the calyx, if you find a cherry to be a bit on the green side, place in a shallow
container, uncovered in a warm, dry place for 1-5 days or until golden. With their calyx attached, cherries can be stored in a well-ventilated, cool place for up to 6 months. With their calyx removed, they can be stored refrigerated for several weeks. Recipe ideas here.
Special Thanks to THE FIDDLEHEAD!
If you've enjoyed a fantastic, wood-fired pizza at The Fiddlehead this summer, you've likely tasted tomatoes from Windy Acre and S & S Farm and basil and eggplant from Bootstraps Farm. Thank you Chef Dave Carte! And for allowing us to use The Fiddlehead as a pick-up point for CSA baskets: You are the very best! :-)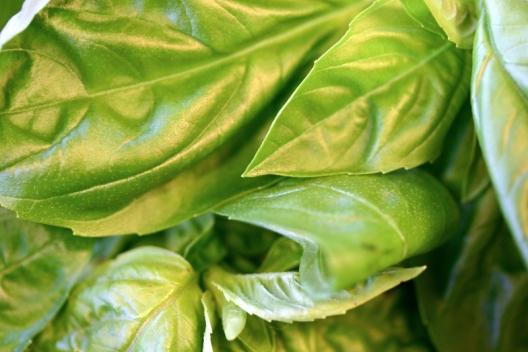 Genovese basil from Bootstraps Farm.
Membership has it's privileges...
When you purchase a CSA membership, you're guaranteed that you will receive the highest quality and greatest variety of local organic produce available. But you don't have to be a CSA member to enjoy a taste of what Produce on the Move! offers. Walk-ins are welcome 12-5pm every Thursday at 503 Third Avenue in Marlinton. Come see us for Good Things to Eat
!
Visit Us 12-5pm Thursdays: 503 Third Ave in Marlinton
Questions? Contact us!
HEARTFELT THANKS TO ALL OUR CUSTOMERS.


With your dollars, you've not only purchased produce raised using the most environmentally sustainable methods, you've also supported the reality of small farming as a business. We small local producers simply can't survive without your choice to spend more of your dollars with us.
THANK YOU FOR SUPPORTING OUR LOCAL FOOD ECONOMY.